Energy Efficiency and Renewable Energy
Clean energy powers Catholic University. Catholic U hosts one of the largest solar installations in the Washington, D.C. metropolitan area and 100 percent of its electricity is purchased with Green e-Certificates. Combined with a focus on improving energy efficiency, Catholic University of America's energy programs have led the University to being recognized as one of the most environmentally responsible colleges in North America.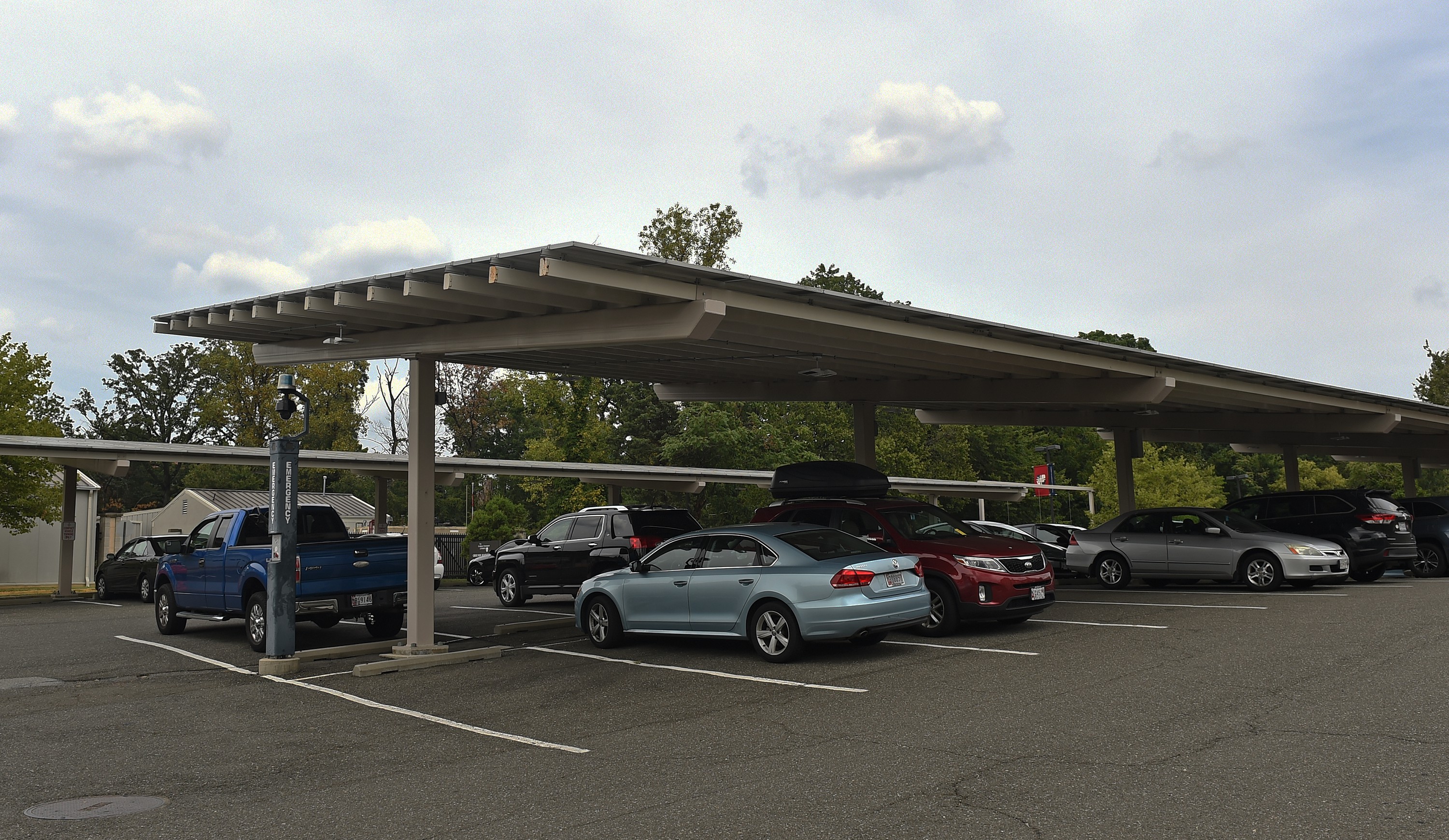 Clean Energy
Catholic University of America has a total of 2,600 solar panels on Aquinas Hall, Flather Hall, Gibbons Hall, Pangborn Hall, the Raymond A. DuFour Athletic Center, the Grounds and Maintenance Building, and O'Boyle Parking Lot. Catholic U has one of the largest solar installations in the District of Columbia with 677 kW of installed capacity. For more details, check out the Catholic University of America Interactive Tour Map.
The Pryzbyla University Center features a solar panel picnic table designed by Catholic University of America students.
Catholic University of America offsets 100% of its energy usage through the purchase of renewable energy credits (RECs). RECs are tradable, non-tangible energy commodities that represent proof that 1 megawatt-hour of electricity was generated from a renewable energy source such as solar or wind.
In April 2019, the U.S. Environmental Protection Agency recognized Catholic University of America as a Green Power College Champion. Catholic University of America was ranked first in the Landmark Conference and 19th overall with 37.9 MWh of green energy purchased.
Energy Efficiency
In 2019, Catholic University of America installed a comprehensive sub-meter system, which tracks how much energy buildings on campus are using in real-time. This information helps the Facilities teams make informed decisions on how to reduce energy use.
Catholic University of America has a building automation system, which controls all of the campus buildings' heating, ventilation, and air conditioning.
Several buildings are undergoing upgrades to more efficient LED lighting. In the 2018-2019 school year, the Pryzbyla Center, Edward M. Crough Center for Architectural Studies, the athletic fields and the Franny Murray Court at DuFour Athletic Center, and Hannon Hall all had significant lighting upgrades.
When possible, Catholic University of America uses ENERGY STAR appliances in a range of applications such as lighting, IT equipment, AV equipment, and kitchen appliances.
The Energy Project

The Energy Project was the most significant energy conservation effort on campus in recent years. The project removed the old campus-wide steam system and replaced it with an energy efficient, modern heating water system served from the campus central plant. In addition, the project helped the University centralize and modernize the cooling infrastructure of many buildings by providing chilled water distribution systems also served from the campus central plant, which enabled the University to remove decades-old building chillers. Altogether, these efforts will greatly reduce the campus natural gas, electrical, and water consumption for years to come.  

Here are the latest estimates of annual energy savings:

10,401 million BTUs of natural gas; equivalent to the CO2 emissions from over 62,000 gallons of gasoline consumed.
616,478 kWh of electricity; equivalent to the CO2 emissions from over 476 million pounds of coal burned.
7,093,482 gallons of water; equivalent to 10 Olympic-sized swimming pools.
436,495 metric tons of CO2 equivalent; equivalent to the CO2 emissions from over 79,000 homes' electricity use for one year.