Catholic University has pledged to pursue a range of sustainability measures.
These measures are related to building energy use, green education, transportation, waste reduction, grounds maintenance, and reporting at both the local and national levels. These sustainability commitments are meant to empower and engage all Catholic University community members through realistic and attainable outcomes that will reduce our carbon footprint.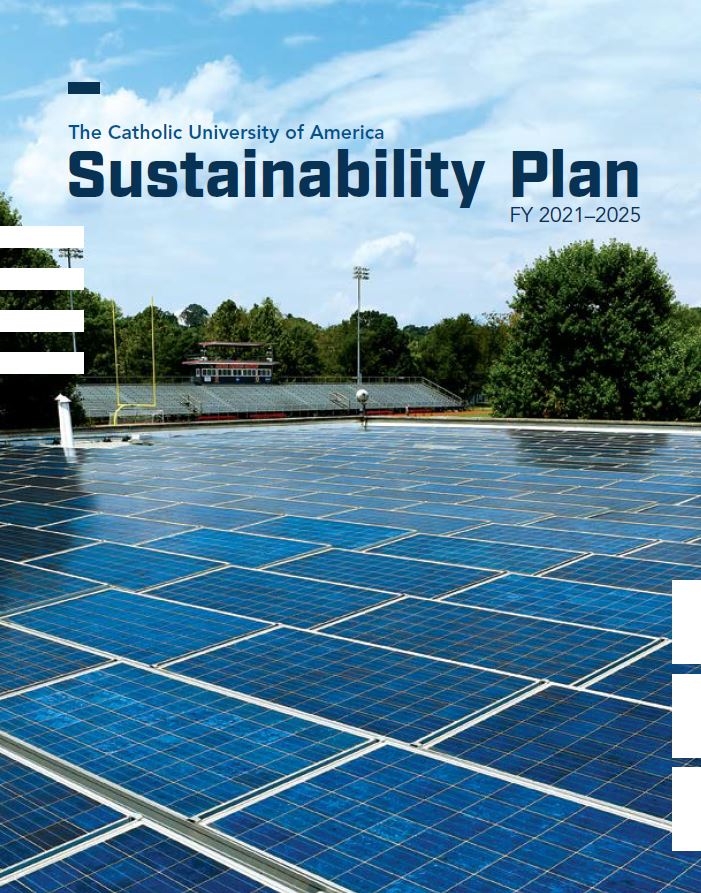 Campus Sustainability Plan
In Fall 2020, the University released a 5-year sustainability plan. The plan is inspired by programs implemented at similar higher-education institutions. The initiatives and actions listed in the plan are intended to generate positive environmental change, promote education and research, preserve resources, raise awareness, reduce expenditures, generate exciting dialogue, and create new Catholic University community engagement touchpoints. This Plan will have a beneficial impact on the University and the world.
Read our FY21 Progress Report to see how Catholic U has adopted and started implementing the Sustainability Plan.
Recognition
Commitments
Laudato Si' Action Platform

In November 2021, the Catholic University of America became one of the first universities in the world to sign onto a new Vatican initiative, the Laudato Si' Action Platform. Inspired by the 2015 encyclical on care for creation, Laudato Si', CatholicU is committing to a Laudato Si' plan for environmental sustainability.

District of Columbia Mayor's College and University Sustainability Pledge (CUSP)

Nine District of Columbia higher education presidents including Catholic University's President Garvey signed onto CUSP in 2012 and again in April 2019. This university-based collaborative approach to sustainability was the first of its kind in the nation. DC was the first city in the U.S. to form such a compact between its higher education sector and local government to advance sustainability. Working together in this public/private partnership, the signatories are working to make the District of Columbia the "Greenest College Town in America".

In 2019, in partnership with DC Mayor Muriel Bowser, the universities committed to continue their support of sustainability initiatives, including: reducing greenhouse gas emissions, increasing renewable energy use, engaging in climate resilience planning efforts, increasing waste diversion, and reducing impervious surfaces on campus.

Better Buildings Challenge

In August 2019, Catholic University became a member in the Better Buildings Alliance, a U.S. Department of Energy program dedicated to promoting leadership in energy innovation. Catholic U also joined the program's Better Buildings Challenge to reduce the University's energy consumption by 20% by the year 2026. Catholic University is one of 30+ colleges and universities sharing best practices and engaging with technical experts to advance energy savings goals.