Our mission is to assist Catholic University to:
Maintain a safe and healthy place to learn, work and visit.
Operate in a manner that protects our environment.
Comply with applicable federal, District of Columbia and other codes and regulations.
Coronavirus/COVID-19 Health & Safety Resources:
These resources are provided to assist department managers and supervisors in evaluating and implementing department or function-specific health and safety practices for coronavirus/COVID-19 pandemic, including social distancing. This should be read in conjunction with the University's Social Distancing Policy for the coronavirus/COVID-19 pandemic. 
Key Resources:
D.C. Government Coronavirus Website
Catholic University - Responding to the Novel Coronavirus (Updates and FAQs)
Human Resources Coronavirus FAQs for Staff and Faculty
CDC Use of Cloth Face Coverings and Instructions to Make from Home: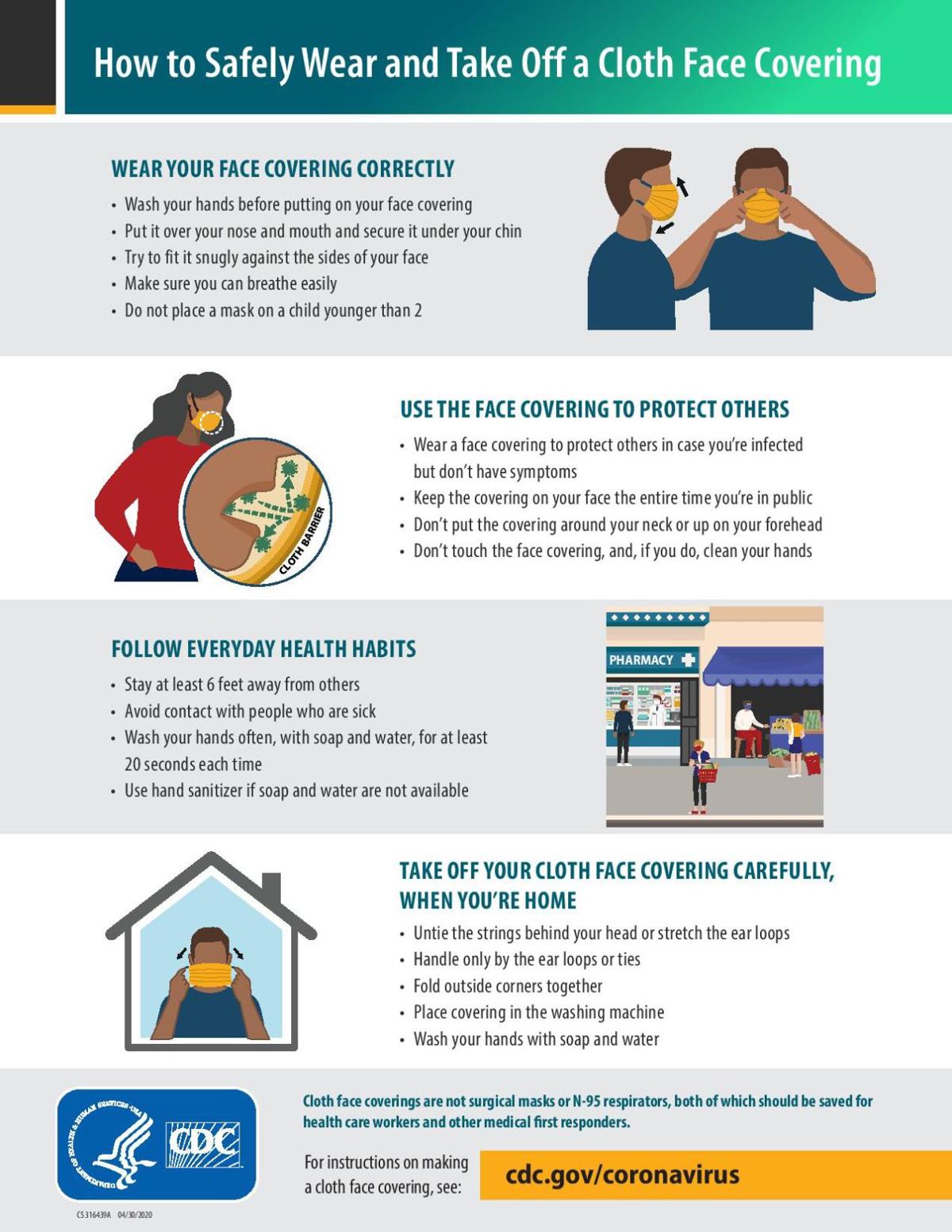 Additional University Poster Resources: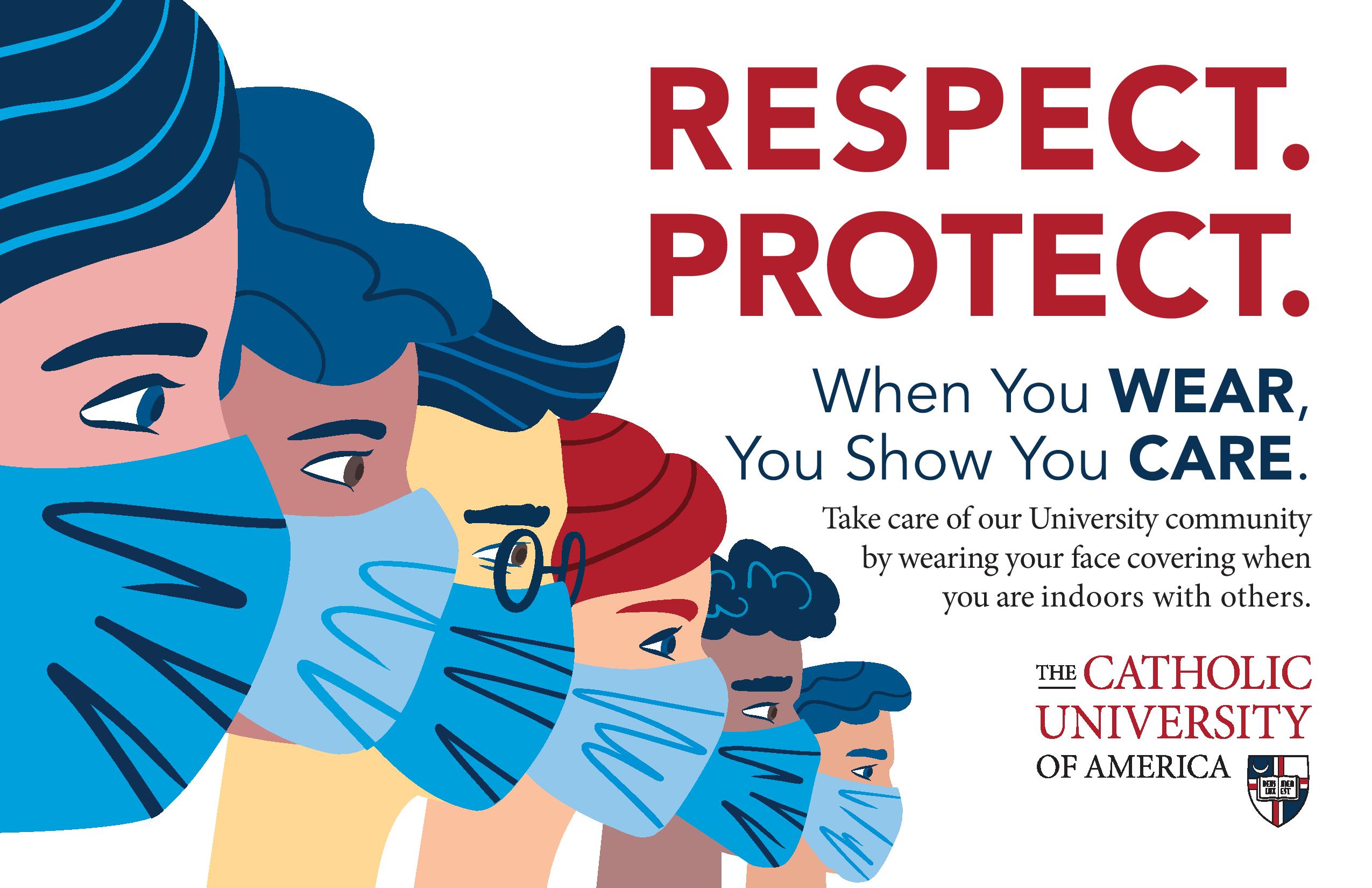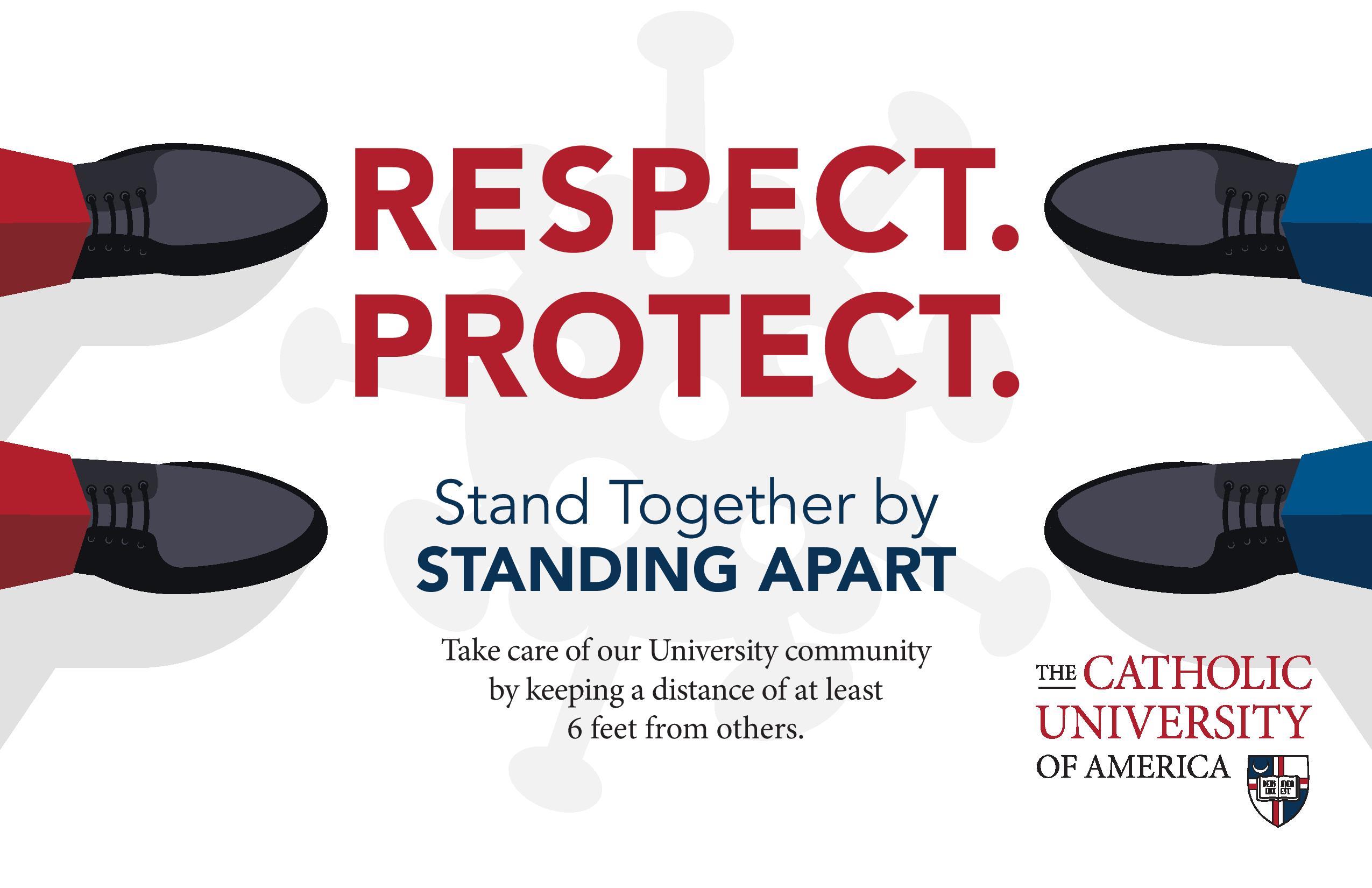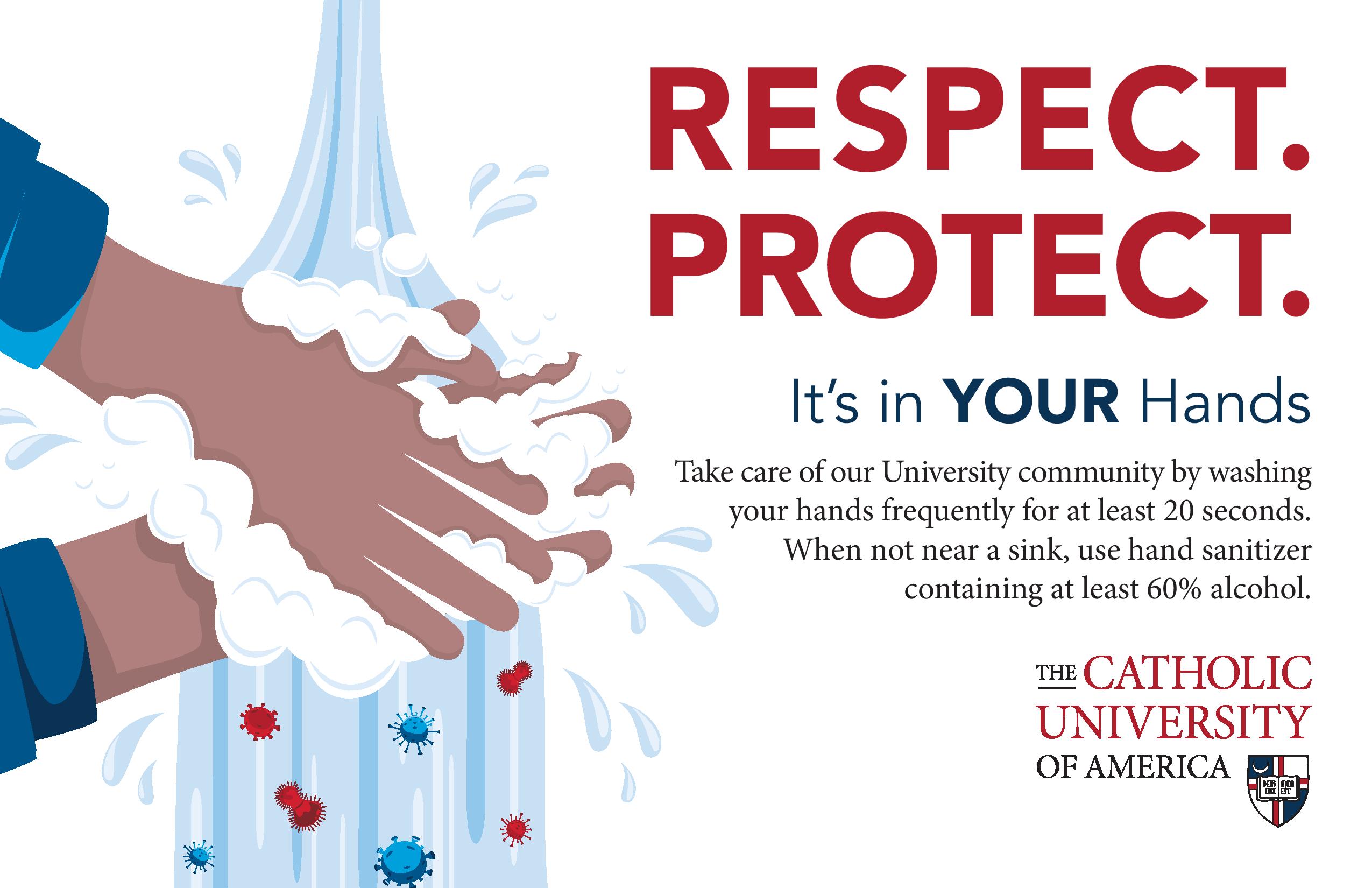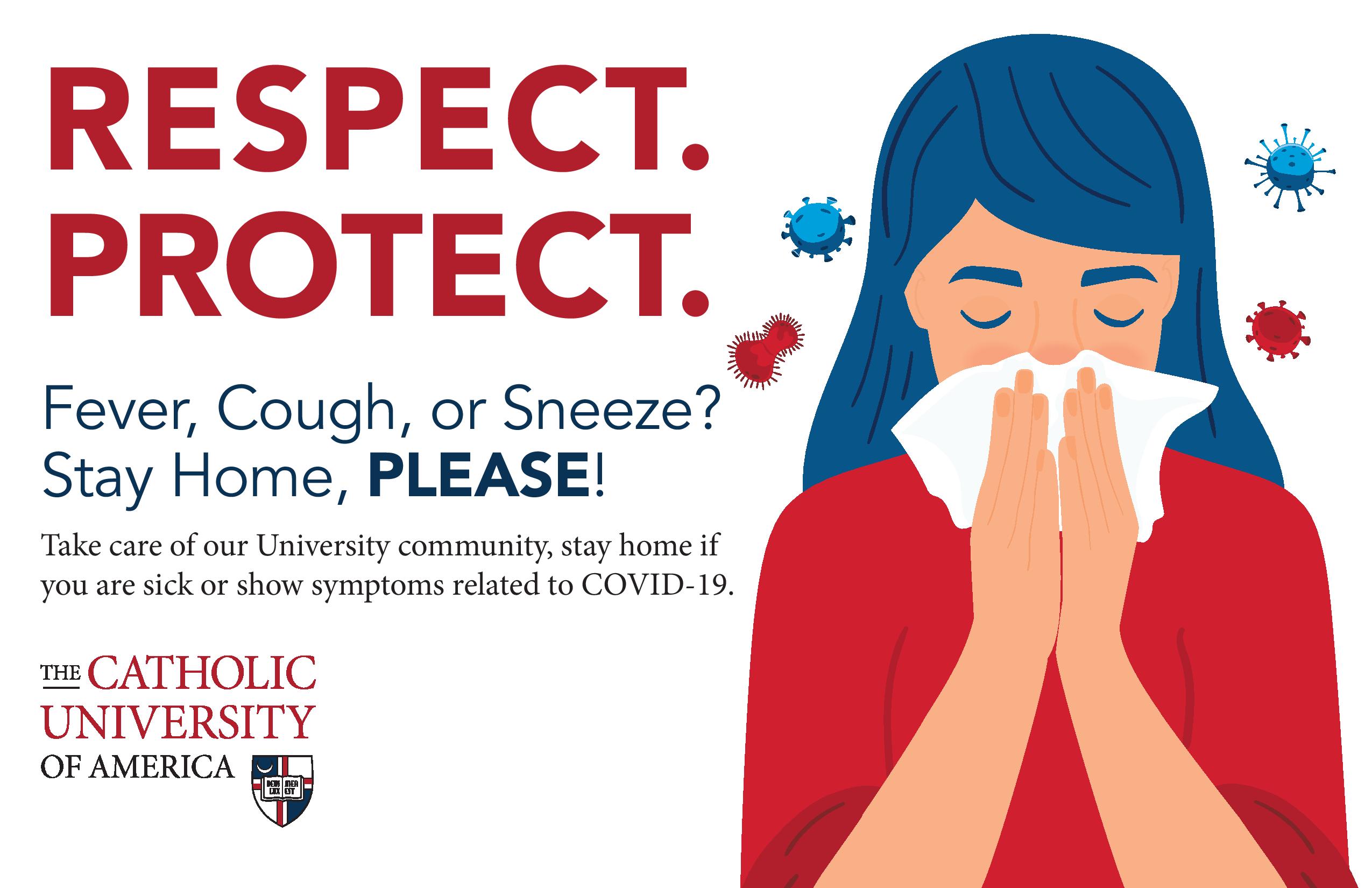 Additional Health and Safety Practices
Drivers of ride-sharing vehicles who must travel to campus should:
Have disinfecting spray or wipes in their vehicles and wipe down all surfaces potentially touched by a passenger after each ride;
Avoid having more than two (2) other persons in their ride-sharing vehicle at any time.
Drivers of all University vehicles should follow the same requirements as those above for ride-sharing. 
Avoid in-person meetings unless essential. If in-person meetings are necessary, then avoid meeting with more than ten (10) people at a time and keep the meeting as brief as possible, maintaining social distancing per the University's Social Distancing Policy for the Coronavirus/COVID-19 Pandemic:
Include phone/video information in every new calendar meeting invitation;
Update recurring calendar meeting invitations with this information.
Avoid lingering in common areas, offices or other enclosed spaces with others;
Regularly clean high-touch surfaces (doorknobs, handrails, desks, computers and keyboards, telephones, desk accessories, mobile devices, vehicle controls, etc.) with sanitizing wipes or other appropriate cleansers;
Do not use other employees' phones, desks, offices, or other work tools and equipment, unless unavoidable. If necessary, clean and disinfect them before and after use;
Follow any and all additional safety guidance issued by your supervisor, EHS, or other University officials;
Report all workplace injuries or illnesses per the Workers Compensation Policy after seeking immediate medical care;
Employees who have symptoms (i.e. fever, cough or shortness of breath) should notify their supervisor immediately and stay home; and
No individual who is suspected or confirmed to be infected with COVID-19 or any other transmissible infectious disease may be engaged in work activities on campus.
The Following Health and Safety Precautions Have Been Implemented in Some Departments in Addition to Social Distancing:
Establish and operate on rotating off-campus/on-campus shifts and schedules, allowing fewer employees on-campus at any given time to avoid contact;
Adjust shifts (e.g. 12 hour/4 days) to minimize the number or employees in contact with one another and the public while maintaining the same coverage;
Split different functions within a unit (e.g. electrical and painting), with employees working from smaller, separate locations;
Modify work order assignments so employees work alone as much as possible and use radios in place of in-person communication;
Modify and spread out break room and lunch schedules to minimize the number of individuals on break and in one locale at the same time;
Adjust the employee time-clock process to avoid employees congregating at the time clock;
Stock disinfectant in University vehicles for vehicle and tool cleaning;
Alter supply and key distribution/return processes to minimize the number of employees touching such items;
Place all returned keys in a bucket of bleach before redistribution;
Disinfect all radios or other shared equipment when returned and place them in their chargers;
With respect to deliveries, adopt a system of real time communications between the supplier or delivery personnel and the recipient to avoid personal contact. For example, phone ahead to announce arrival at a designated spot so a package can then be left outside for pickup while the recipient monitors from inside the building;
Conduct as many functions online or via other electronic means as possible.